---
Ever since Phil Caivano joined Monster Magnet, which was around the same time my tribute site became a little bit more than an average hobby I've been in touch with the guitarist on very regular bases. After six years of hanging out on several occasions, numberous e-mails and many fine parties, we decided it was about time to finally do an exlusive interview for this site. Here's the result : an interview with a man obsessed by rock, a very talented musician in heart and soul and a good friend of mine ... enjoy !
---
...
Serge :
Phil, you joined Monster Magnet back in 1998 shortly after the Powertrip release, most people know about how you and Dave both have been in the band Schrapnel in the mid-eighties and you fronted Blitzspeer later on but can you give us some more insight about what you have done music wise in between the demise of Schrapnel and joining Monster Magnet ?
...
Phil : I was in Blitzspeer for sometime. It was like rehab. The guys were great. The whole thing got me back on my feet, learned to function and play guitar all

over again this time. I also took a job driving a cab in NYC so I could make my own work hours and concentrate on music. A while after Blitzspeer fell apart I got a call from Jimmy and Todd from Murphy's Law. They were looking for someone to play bass on a European, US and

Japanese tour. I knew Jimmy and Todd Youth from my days hanging around the NYC Hardcore scene, it was a great time. I started to get the studio bug around that time also from making the records with Blitzspeer. I also wrote with Todd and Jimmy while playing with those guys. After that I moved to LA to start a band and look for a gig working in production. Out there I tried to start a band with my good friend Dan Druff, I couldnít find studio work so I took a job in a coffee shop. That lasted for about a year then things started to change..
...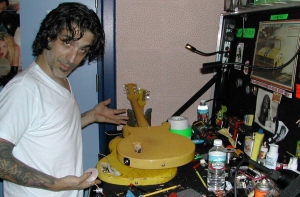 ...
Serge :
Whatís the story behind joining Magnet in í98. Have you been in touch with Dave and the band all that time or did you ran into an old friend (Dave), heard about how he was looking for an additional guitarist and decided to join forces ?
...
Phil :

Dave and I always kept in touch. I lent him a bunch of gear for the Dopes record. The sunburst Les Paul I still play is one of the main guitars on that record as well as some of my Marshalls. He asked me to play bass on a track but I was off to Europe with Murphy's. While working at the coffee shop I met a women who told me her husband had a studio and might be looking for someone to help out. His name is Matt Hyde.. A while after that I get a call from Dave telling me he's coming to LA to record the next record (Powertrip) with Ö you guessed it, Matt Hyde. It really is a small world. I was around for a lot for the recording and mixing of Powertrip. Dave and I hung out quite a bit in LA after the rest of the band went home to Jersey. I went back to see my family for the Holidays. Thatís when Dave asked me to sit in and play guitar on Spine of God for a New Years show in NYC so he could set a guitar on fire!! It was great but I never thought I would be in the band or anything. It just never entered my mind. I was working with Matt at the time so I was set to go back to LA. The night before I was going back to LA Dave and I got to one of our favourite diners.. Thatís when he asked me to join the band. I was very surprised. I knew I was going to do it, I just had to get to LA, finish up some work Ö the next thing I know I'm out touring the Powertrip record and playing guitar in the band.
...
Serge :

Were you a Monster Magnet fan before you joined the band ?
...
Phil : I was a fan from the very beginning. I was at a lot of the early show with Tim doing vocals. Those shows were great. I can't believe it was that long ago. Iíve also always loved Daveís song writing. He just has a certain nack for

great riffs and turning them into songs and let's not forget about the lyrics, they're awesome ÖWe also grew up on the same stuff so Iíve always known where he was coming from.
...
Serge :
Besides being in Monster Magnet you are also active as a producer for other bands. I heard about Heavy Liquid and Electric Frankenstein, any more info on that ? Are there more bands you produced or helped out in the studio ?
...
Phil : I did the Electric Frankenstein thing during a Magnet break. It was

supposed to be demos .The next thing I knew it was out being advertised as

produced by Phil Caivano from Monster Magnet ... I was kinda pissed but what the fuck. I worked with Heavy Liquid. They were old friends of mine and they asked me to help them with a recording. I did some other things here and there. One thing I did was produce a track for a MotŲrhead tribute for Chrome Locust. They did Metropolis. Michael Wildwood and Todd Youth were in that band. That was a fun one. I also helped Jon and Tim mix the Gallery Of Mites record. I also did some guitar on that one.
...
Serge :
You are also mentioned as assistant producer on Monolithic Baby, have you been involved in the entire recording / producing / mixing process this time around ?
...
Phil : I was involved with Monolithic Baby since day one doing everything it took to get this record together. Dave would bring songs he did at his house over and we would record them at my place, then bring it to the band. I engineered the demos, played guitar, worked out bass parts with Dave and Jim. I think spending the time on the demoís really took this record to the next level. We had a lot of songs to choose from. So on the record I did more of the same. Play guitar, bass on some tracks, did some engineering, editing ,even some background vocals ... It really was a great time.
...
Serge :

The guys in Heavy Liquid told me you build yourself a home studio in NJ a couple of years ago, any interesting stories about that ?
...
Phil : The only interesting story is that I was working on music 24/7 for the last two years getting this record together. I have demos of songs that are on the record that date back to right after the God Says No tour. Itís really just a home studio we use a lot for pre-production. I got way into working with Pro Tools. It was frustrating in the beginning but once I got over the hump it was great
...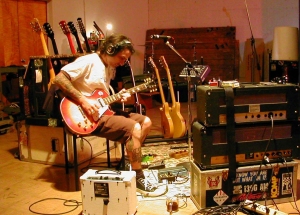 ...
Serge :

Youíve been in the band for nearly six years now and experienced some of the most radical events ever happened withiní the Monster Magnet camp, like the mega success of the Powertrip album, the departure from A&M / Interscope, signing with independent label SPV, new rhythm section. etc. how was it so far and whatís your point of view on all the recent changes ?
...
Phil : I totally except the changes ... I knew and understood why it had to happen. I really enjoy playing with Jim and Bob and I liked working with Michael on the record. I became friends with Jon and Joe so I do miss them around but Iím still friends with them I just donít play in a band with them now... Jon and I are better friends now then when we played together. We alway talk about recording music. Before we went on this tour I lend him some mics for the Rib Eye Brothers record. I think the changes freaked out other people more then us. I donít pay a lot of attention to the label stuff. I donít like it. I never did ...
...
Serge :
I always wondered what you do during periods where Monster Magnet is kinda put-on-hold Ö like in between the God Says No tour and the release of Monolithic Baby. I can imagine if you do something 24/7 for a long time and you finally get home after a tour your going for something completely different Ö or am I wrong ? I mean, Edís always busy with side projects and stuff, Dave writes songs for the next Magnet album or works on a soundtrack but in between Magnet releases we hardly ever hear anything about you Ö are you happy to focus on something else or still busy making music / producing etc. ?
...
Phil : Well the God Says No tour was cut short by Dave needing an operation on his knee. Thatís when I went full on with the studio stuff. I worked with Hatebreed on both their records, I took time for myself .Then got right to work. I also did some work on the ďTorqueĒ soundtrack. I explore new areas of recording, write and enjoy my personal life.
...
Serge :
Whatís your point of view on todayís music scene. Can you still be excited about a new bandís release or are you sticking to the old school stuff. Do you check out bands live, hang out at local clubs, listening to new releases ?
...
Phil : I donít go out much. Itís hard for me to get excited about new music. Most of

it sucks so I do stick with what I know. There are some things out there I get surprised where I hear them and get really into it when I like it

.
...
Serge :
Is there something like a NJ scene out there? From here it looks like thereís really a productive thing going on there, I mean, bands like Solace, Atomic Bitchwax, Core, Lord Sterling, Black Nasa, Halfway To Gone, Solarized etc. etc. all work on each others records, team up for the Gallery Of Mites and Scene Killer projects. Nearly everybody in Monster Magnet seems to work with everybody else out there, is there a special vibe going on amongst all the Jersey rock bands?
...
Phil : I really donít know but I guess thereís a scene. Where we're from its a small town so every one knows each other and helps each other out. Most of them all rehearse at Jimís place so you canít get away from it.
...
Serge :

How is it to be part of a hard touring band like Monster Magnet. Even after all these years you guys always seem to enjoy yourselves on the road. A lot of bands who are around as long as Monster Magnet kinda have the ďbeen there, done thatĒ attitude and think about touring as a necessary evil. How is touring for you personally?
...
Phil : Touring has always been fun for me. I wouldnít do it if I didnít like it ... I feel lucky to still be able to do it. If it ended tomorrow I can at least say I played with some great guys and played in a great band. When you get this opportunity you better enjoy it because it may never happen again.
...
Serge :
How important is it for you to keep in touch with the fans? Youíve always been great to me and often during long periods of in-activity of the band you dropped me a note to give me the scoop about what was going on in Monster Magnet land, which is awesome. I think itís pretty important to you to keep the fans informed.
...
Phil : I try to stay grounded. Some of the fans are nuts but as a musician I realize we have nothing if we donít have fans. Iíve always have felt a contact with you since I got turned on to your site from a friend when I joined the band. I always felt like I should check in with you. You and Natacha also were good at keeping in touch with me. So I new if I keep you posted you would get it out there...
...
Serge :
Well, itís been a hell of a ride so far, do you see yourself and the rest of the band doiní the same thing in letís say ten years from here? Unfortunately we live in a fast changing world but some bands like MotŲrhead seem to get away with it. How about Monster Magnet?
...
Phil :

Thatís a hard one because you never know what is going to happen. Thatís one off the reasons I like it so much. I know we have it in us !
...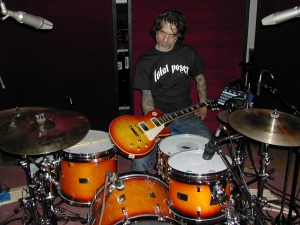 ...
---
So here's to another decade of full on Monster Magnet, thanks a lot Phil for taking the time to do this interview !
---
...